Black Caviar USA
Regular price
$159.99 USD
Regular price
$194.97 USD
Sale price
$159.99 USD
Unit price
per
Sale
Sold out
This Classic Osetra, Siberian Sturgeon, Kaluga Caviar Tasting Set is sold only in the highest Premium Quality possible.
Brand: Black Caviar USA
Species:

Acipenser Gueldenstaedtii

,

Acipenser Baerii

,

Huso Dauricus X Acipenser Schrenckii

Ingredients: Sturgeon fish eggs, Salt.
Type: Farmed
Fish Egg Size: Medium Large, Medium Small, Medium
Packaging: 3 Glass Jars
Weight: 3 * 28g / 3  * 1 oz
Storage: 29 - 32 F
Shelf Life Refrigerated: 2 weeks
Availability: Usually ships within 1 business day
View full details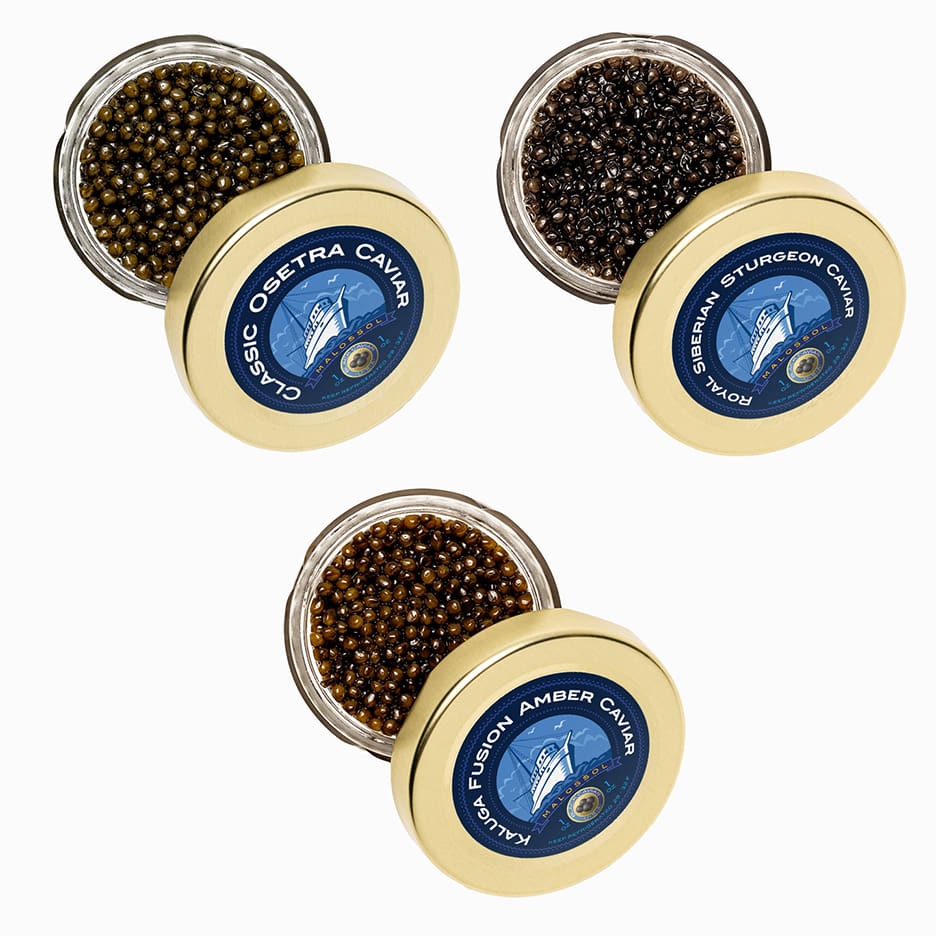 Product Details
Product description

This caviar tasting set is perfect for anyone who wants to experience the unique flavors and textures of different types of caviar. The set includes 1 oz each of Classic Osetra Caviar, Royal Siberian Sturgeon Caviar, and Kaluga Fusion Amber Caviar. Each variety boasts a unique flavor profile, texture, and appearance, making this set perfect for the discerning caviar connoisseur.
Nutrition Facts

Serving size: 1 oz (28g)
Calories per serving: 75
Total Fat: 5g - 8% DV
Saturated Fat: 1g - 6% DV
Trans Fat: 0g
Cholesterol: 165mg - 55% DV
Sodium: 425mg - 18% DV
Vitamin D: 1mcg - 5% DV
Calcium: 4% DV
Potassium: 2% DV
Iron: 8% DV
Protein: 6g
Omega-3: 1086mg

The information provided on this website have not been evaluated by the Food and Drug Administration and are not intended to make health-related decisions.